The Next Level For High Achievers
Perform At Your Peak, Master Yourself & Unlock Your Personal Power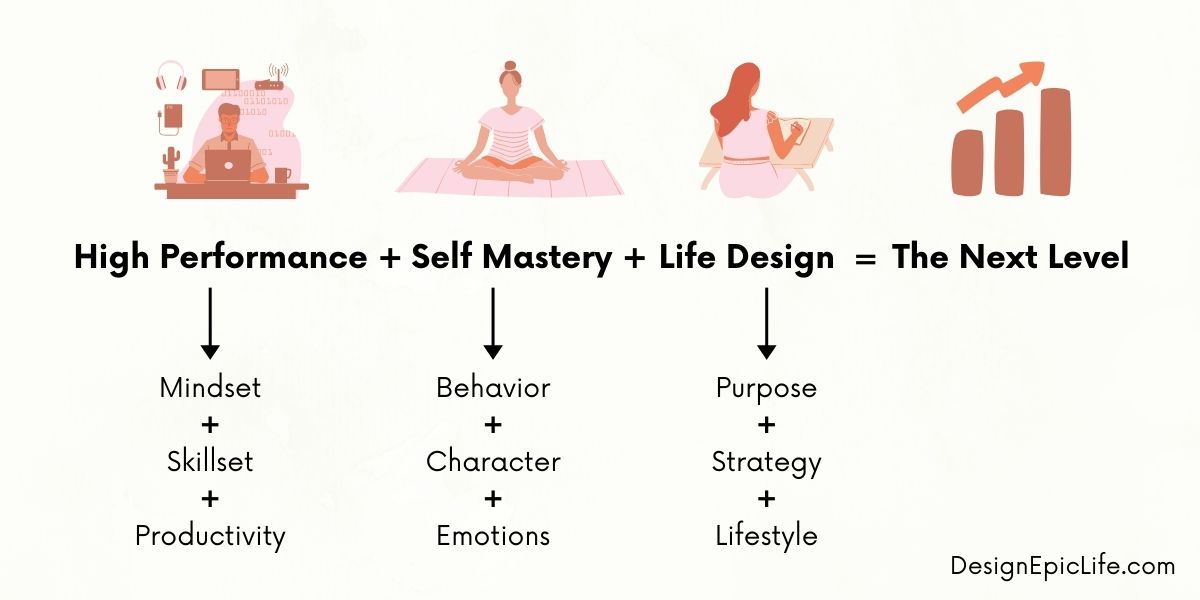 You're successful in people's eyes.
But…
Deep down, you know you're not fulfilled with yourself, your performance, or your life.
You see, we are weird creatures.
We think we want the best for ourselves, but we don't.
After coaching hundreds of people, I see a lot of patterns repeating over and over again.
You may think that you don't self-sabotage or limit yourself. So let's find out if you do.
See if you can identify with any of these behaviors of self-sabotage:
Poor work life: Procrastination, resistance, low performance, bad management, busyness, chronic stress, burnout, sacrificing your health, family and life, etc.
People pleasing: Lack of healthy boundaries, saying yes when you want to say no, seeking approval from everyone, fearing rejection, not expressing your needs and wants, etc.
Passive behavior: Avoiding change or responsibility, victimhood, relying on others to make you happy, letting perfectionism block you, living a purposeless life, being controlled by primitive thinking patterns, etc.
Weak self-esteem: Having limiting beliefs and insecurities, hiding because of the imposter syndrome, feeling unworthy, negative self-talk, self-doubt, having low standards for oneself, etc.
Compulsions: Bad habits and behaviors, choosing or staying in toxic self-sabotaging relationships, being attracted and attached to unavailable people or people who aren't good for you, overindulging, lack of discipline, etc.
Blocking success, happiness and well-being: Letting the fear of failure or the fear of success paralyze you, Not starting or staying consistent, seeking drama or distractions, not taking care of yourself, not upgrading your mindset, staying safe and comfortable, not asking for or receiving help, etc.
I'm certain that you at least do one of these things. In fact, most people are doing it in many ways and they don't even realize it.
You may have tried different solutions like reading books, taking courses, etc. but they don't work without the things you actually need.
The solution to all the problems mentioned above boils down to three factors that will take you to the next level:
High Performance (Mindset + Skillset + Productivity)
Self Mastery (Behavior + Character + Emotions)
Life Design (Purpose + Strategy + Lifestyle)
Your next level could mean:
Making more money or scaling your business
Starting a new career or a side hustle

Being in the best shape of your life

Attracting positive relationships
Achieving your unmet dreams

Having more time and energy

Becoming a powerful leader
But there's one problem.
Going to the next level is often an uncomfortable and lonely journey.
People may think you're a fool and you may even doubt yourself for thinking big.
So you must master yourself, design your life and become a high-performer to meet the standards of your goals.
This isn't about burning out. 
In fact, it's living your life in such a way that your personal and professional life support one another.
Most people try to balance their life by giving half-ass effort to everything. Because if they give their best to everything, they'll run out of energy.
The problem lies in your fuel tank. If your fuel tank is small and it doesn't charge quickly, you'll create poor results all day.
Now imagine running on a premium top-class fuel, having a big fuel tank, and being able to recharge super quickly.
That's the essence of being a high-performer.
You achieve your goals faster. You gain more power and freedom over yourself. You have more time to spend with your family or with yourself.
Isn't that a prosperous life?
So instead of settling for less in your career or feeling guilty for not having personal time, commit to becoming a high-performer.
Focus on mastering your mind, body, and emotions.
When you learn to master yourself…
Self-discipline becomes easier
Self-confidence becomes natural
Productivity becomes effortless
Success becomes automatic
Happiness becomes a side-effect
You stop complaining, blaming, or hating. You become more self-aware and self-reliant. You take 100% responsibility for yourself and your life.
You can't perform at your peak, give your best, live in harmony, and love fully without mastering yourself.
The best part – ANYONE can do this. You don't need any talent or luck.
When you become a better version of yourself, you become more valuable, more attractive, and more powerful.
Now imagine yourself doing all of that and fighting for your dreams, but also having a coach by your side.
Coaching helps you create your ideal future faster. Instead of intellectualizing self-help books, you get busy transforming yourself and changing your life.
No matter where you are, there's always the next level.
Now I have one question for you – Are you ready to go to your next level?
Hi, I'm Prakhar. I created Design Epic Life to help you live your best life, perform at your best and become the best version of yourself.
With a background in behavioral psychology, I went on to study neuroscience and coaching methods to be able to help myself and others.
First, I worked on myself. I had zero business, productivity, and money skills. I had no control over myself. I was fat and lazy. I was shy and anxious around people. I was a chronic overthinker. And I was so highly sensitive that every little thing would hurt and drain me.
As a result, I stayed stuck, small, and afraid. My self-esteem and confidence kept going down the drain. But then through the power of self-mastery, I gained control over my health, time, business, finance, relationships, thoughts, and emotions.
Now I've coached hundreds of people and I've spent thousands of dollars learning from some of the best coaches and mentors in the world.
I've been trained as a coach to help high achievers go to the next level in their personal and professional life (certification). 
Now I'm on a mission to help you reach the next level of your success. Because when you flourish, the whole world benefits.
Most coaches use sticks and carrots for high-performance. I focus on the self-mastery you need to accomplish things on your own.
Most coaches throw advice at you. I pull out your inner genius and help you become great.
Most coaches give you discipline and tough love. I help you build your own self-discipline and self-love.
I'll help you prioritize, manage and master yourself so you can perform at your peak and raise your personal power to reach your dreams.
Most people sabotage themselves by not taking any help. The truth is that your ego never wants the best for you. It wants to protect itself and stay comfortable.
So you must rebel against it and go from being passive to an active investor in your future self. If you have the resources, coaching is the best investment you can make for personal and professional growth. It's not too late if you start now.
"I wanted to improve my productivity by tracking my life and defining my priorities. I have significantly improved my productivity. I have improved my performance at work. I have built new healthy habits that are positively benefiting my life everyday. Prakhar has a depth and understanding of the human condition that is capable of radically transforming your life. He utilizes in-depth articles, thoughtful questions, templates, and suggestions to facilate your personal awakening. "
"Prakhar is a gifted and compassionate coach. He has a great insight into human nature and easily cultivates a sense of trust and safety within, which makes meaningful self-inquiry possible. When he asks his thought-provoking questions, or suggests visualizations, the terrain has already been prepared to facilitate connection to the deepest parts of ourselves. He has a calm wisdom about him and is a keen listener, skillfully putting you at ease to allow for an internal permission, a green light from which to explore mental blocks, self-limiting beliefs and habit loops that no longer serve. His questions are intuitive and thought-provoking, his feedback insightful and wise. He makes it known that he believes in you, which made me feel comfortable and that I could trust him. With powerful questions for self-reflection, he helped me to find clarity and direction. It's clear that Prakhar truly cares and is dedicated to helping facilitate personal evolution within each one of his clients, consistently showing up with a kind-hearted and directed presence that both honors where you are and catapults you where you strive to be."
"Before Prakhar, I was in a toxic destructive relationship. I felt oppressed, couldn't create either time or space for myself. I couldn't hold my head upon water. My thoughts kept shooting at me everyday, holding me knees deep in mud. He helped me find courage and enthusiasm within myself to step by step make my way out of this horror trip. I needed to be inspired in a different way, things and people that would surround me before would lead me to self-destruction, I came to a point where I could trust absolutely no one, not my friends, not my family, and of course not myself. I was completely isolated and didn't even notice how deep I hid myself. My first session with him was a painful coming out. I'm set into a daily planing that fulfills me and I can see myself grow every day, working hard to achieve goals that motivate me. People or situations that would make me feel low just disappeared and so did my old ugly habits, progressively and without effort, to create space for new graceful optics. I feel confident looking forward and finally realize : I deserve it. His feedback is so well meant that it feels right and brings me further. He makes me smile when I tell him about things I'm most ashamed of."
"Prakhar has been incredibly helpful! I've never had success with goal-tracking apps before, but Prakhar set me up with a Google Sheet to track all my goals, habits, daily tasks, and more which has been completely transformational. I can now see how I have been doing with all my goals and habits from one sheet, which has been really motivating for making real progress. In addition, any time I get stuck, Prakhar has useful and helpful advice to help me get back on track in the right direction. I highly recommend working with him to anyone who wants an expert on their side to help them make rapid progress towards their ideal life!!"
"He helped me build a great foundational skills in designing my life. Prakhar gave me tools to plan my entire life plan in detail and i gained great clarity because of it. I recommend him to anyone who is struggling to reach the next level."
"Before I started working with Prakhar, I was getting to sleep well after 1 am every night, and I struggled to follow daily routines. I had tried reminders on my phone and complicated schedules. Nothing seemed to work. With Prakhar's help, I am now regularly getting to sleep before midnight. The extra sleep has made such a difference in my energy and my mood. I've also been planning daily, exercising, and even began a daily meditation habit. Getting to bed on time was the small improvement that made the others possible. Throughout the process, Prakhar was proactive in reaching out to me, checking in on each of my daily habits, and encouraging me to continually improve. If you are considering working with Prakhar, I can't recommend his work enough!"
"Prakhar helped me to realize some key understandings about how I've been self-sabotaging myself. It caused me to take a hard look at my belief systems, and prepared me to ask myself if I'm truly ready to change them, and change my life. He has an understanding of a vital component of coaching: asking the client the right questions."
"Prakhar is an amazing coach. He is very understanding and knowledgeable in every aspect. Not only is he there to guide you step by step of the way, but he will keep you accountable and continuously check up on you. It may be small but it is a very powerful thing to do. He does not need to do it but he understands the value and the power of keeping accountable. He will push you to your limits and push you out of your comfort zone to grow. The goal I have achieved through his coaching was to start producing content and get in front of the camera as I am an influencer. He has made it easier for me to clarify what content I needed but most importantly he knows just getting in front of the camera is what was needed to stop doubting myself. Keep up the good work and continue to guide others to be the best version of themselves!"
"Prakhar has been supporting and instrumental in organizing a morning routine. Setting up priorities and goals and striving towards them. The amount of time and commitment, Prakhar has devoted to the coaching is phenomenal. I highly recommend Prakhar for your next coaching session."
"Prakhar is a great coach..He coaches you to the point..He goes step by step. He is very persistent in keeping you accountable in your goal..I am happy to find him as my coach.."
"Prakhar has been helping me establish and track my daily habits to work towards my goals with daily check ins, encouragement and guidance. I've been able to find better clarity and focus on what matters most and will help drive progress the fastest.
"Prakhar has proven that I just needed the right coach. Constantly engaging, constantly checking in, and holding me accountable to my goals. He asks good questions and helps me stay focused on my main priorities and goals."
"I find Prakhar accessible, down to earth yet a strong hand that guide me in to the future. I recommend him wholeheartedly."
"Prakhar is a direct, motivated and helpful coach who is knowledgeable in a wide variety of areas pertaining to personal development. He can absolutely help you to set, monitor, and achieve your goals by putting into place valuable mental frameworks, habits, and mindsets. Prakhar taught me that if you don't do your vision with frequency and dedication, it cannot happen according to your dreams and goals."
"I had the honour to be coached by Prakhar. Prakhar is very natural in his coaching and very clear in how to reach your goals. He asks the right questions. Thank you Prakhar for your wisdom and time. I highly yet recommend coaching by Prakhar."
"Prakhar is a natural coach. He asked thought provoking, insightful questions that helped me gain clarity. He also held space for me and supported my "now" while simultaneously nudging me forward. He helped me overcome uncertainty and struggles that I was going through, and gave me the tools I needed to move forward and grow with a clearer, and bigger vision. I highly recommend him!"
"Prakhar is a great coach! I booked a session with him as I heard great things about his coaching. I was truly amazed by his wisdom at such a young age. I would highly recommend him. Thank you Prakhar for your time and guidance. The world needs more Prakhar!!"
"I recently had a coaching session with Prakhar which was most unusual. I was expecting the usual coaching questions but what transpired was an artistically woven inquiry into deep parts of my psyche. It was a surprise and usually I wouldn't have engaged in such a profound journey so readily but there was something about. Prakhar that inspired trust, a feeling that there was no ulterior motive, no hidden agenda other than wanting to help. The result was that I was able to reconnect with my desire to write and relinquish constrictions around format, genre and timing. The session liberated me to just write! I would highly recommend Prakhar if you are looking for a coach who will help you transform your life and feel truly alive."
I used to think that the fear of failure and the fear of success stop people from getting what they want.
But I have discovered a greater fear that stops most of us from reaching our full potential.
It's the fear of facing the truth.
Most people don't want to empower themselves because then they'll have a greater responsibility.
So what do they do?
They fall into the same patterns that keep their ego safe and comfortable.
They don't commit. They don't change. They don't invest in their growth. They stay where they are.
I admit that facing the truth is hard and scary. But having done that over and over again, I can tell you one thing for sure.
Only the truth can set you free because it gives you power. When you face the truth, you get personal power.
Responsibility –> Personal Power –> Personal Freedom
When you're powerful, you're the one in charge as you create your destiny.
When you're free, you can do anything you want and get anything you want without attachments or worries.
Coaching is one of the best ways to face the truth and to take responsibility. Coaching gives you power and freedom.
As a coach, my supreme task is to understand you. As Albert Einstien said, "If I had an hour to solve a problem I'd spend 55 minutes thinking about the problem and 5 minutes thinking about solutions."
When you feel understood, the solution naturally shows up and the next step unfolds right in front of you. When your narrative, self-image, vision, and values are aligned, you don't need motivation from me or any other person. You'll use your own willpower and courage to succeed.
So I invite you to talk to me one-on-one. What's the #1 problem or goal in your life right now? I will not fix you, but understand you and then challenge you. I'll help you to come up with an insight or breakthrough that will shift your paradigm and help you move forward.