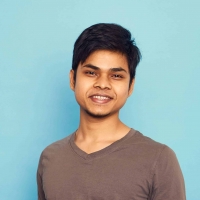 Hello there! 👋
I'm Prakhar.
Click here to read what I'm doing now. Or continue scrolling to read more about my mission.
I study the most important subject of all – learning how to live.
Whether it's through psychology, philosophy, spirituality, creativity, self-experimentation, life "hacks" or anything that leads to a deeper understanding of a life well lived.
I study all of it and then translate them to you in an easy-to-understand, digestible form so you can learn all of it at your own pace in your busy life.
You see, my life was scripted.
I was going to live the traditional life like most people.
While there's nothing wrong with living a traditional life, there was just one problem.
It was already figured out! There's was no adventure.
As a life designer, I wanted to create my own future and design a new reality for myself. A reality that was different than what I was supposed to do with my life.
So I tore off the pages of my scripted life and designed my life from scratch.
I listened to my heart, took massive action, committed to lifelong learning and took charge of my wellbeing.
Ever since, I've never stopped.
I aim to live a life of growth, peace, freedom, and fulfillment.
I write, learn, experiment, explore and do my best to make a positive impact in your life.
My top interests are Personal Growth, Health & Fitness, and Entrepreneurship.
The top values I live by are Peace, Growth, Courage, Integrity, Learning, Gratitude, Love & Kindness, Meaning & Purpose, Freedom & Independence, and Wisdom & Thoughtfulness.
The interests, values, and the life I'm living were not the plan of my scripted life.
Every day, I'm designing the life I want to live. My philosophy is to accept the past, be grateful for the present and design a better life for the future.
Now it's your turn.
Maybe you feel lost.
Maybe you feel stuck.
Maybe you fear you won't reach your goals.
Or maybe you're working hard but not getting what you want out of life.
No matter what it might be, it's time to gain the momentum to design your epic life.
Free yourself.
Be true to who you want to be.
You matter.
Your life matters.
You have one life to squeeze out what YOU want most out of life.
It's a miracle to be a human. Please don't lose this wonderful opportunity.
You may want to grow in your career, find a new job, start a business, make more money, travel the world, be fit & healthy, improve your relationships, find your community, re-connect with yourself, improve yourself, learn new things or even find time for your hobbies.
No matter what you want, pick your priorities according to your season of life.
This is your call to adventure.
Set sail and move towards your epic life one day at a time.
Let's start by re-designing your day because every day counts.