The Best Supplement For Energy With Vitamins And Nutrients That Will Kill Your Fatigue
Imagine using a crappy set of headphones when you want to listen to great music. You would appreciate the music, but you would never realize the power of using a high-quality headphone.
But once you put on a new high-quality headphone, you'll hear the subtle tunes, beats, and details you had never heard before. You'll have a new appreciation for music. You'll never want to put on your old headphones again. That's exactly what happens when you have more energy.
You think you can get by with the energy levels you have, but imagine having double the energy you have today. What would you accomplish or experience?
The power of having more energy is immense. The quality of your work and life improve. Your life gets filled with new enthusiasm and vitality. You feel better. People feel good being around you.
So I've found these evidence-based supplements for energy that are backed by science. They are proven to boost energy, decrease time to exhaustion, improve mitochondria function or reduce physical and mental fatigue.
Before I give you the name of the best energy supplement you can buy for chronic fatigue, let's find out which vitamins, minerals, and nutrients can give you more energy.
Table Of Contents
Best Vitamins and Minerals For Energy
Best Lifestyle Tips For Energy
The #1 Supplement For Energy
54 Best Nutrients, Substances, Compounds, Minerals & Vitamins For Energy And Tiredness
After extensive research, I've found the vitamins, minerals, and nutrients that are proven to give you energy and reduce fatigue:
17 Best Lifestyle Tips For Energy
These lifestyle factors can give you more energy:
Good nutrition (foods rich in vitamins and minerals that give you energy)
Adequate protein intake (267)
Adequate physical exercise and movement (290, 291, 292, 293, 294, 295, 296, 297, 298, 299, 300, 301, 302, 303, 304)
Massage (336, 337, 338, 339, 340, 341, 342, 343, 344, 345, 346, 347, 348, 349, 350, 351, 352, 353, 354, 355, 356)
Related: The Life Designer's Toolkit – Recommended Health Tools
The Best Natural Energy Supplement
So what is the best supplement for energy?
Qualia Life is the best energy supplement for chronic fatigue. It's a product by Neurohacker Collective. Both men and women can use it. It is designed to:
Amplify productivity
Promote restful sleep
Upgrade energy levels
Support mitochondrial fitness & cell energy
Promote NAD+ & ATP
Provide support for handling stress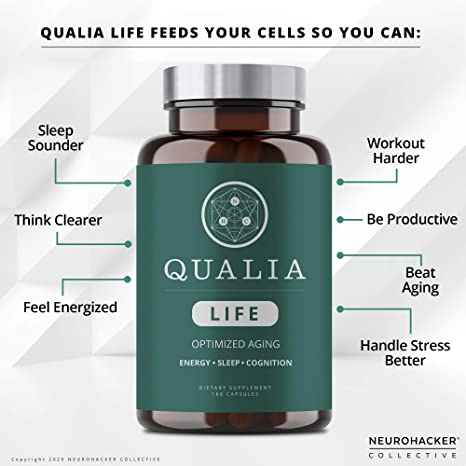 Key ingredients for energy: Creatine (Tri-creatine Malate), N-Acetylcysteine (NAC), Coenzyme Q10 (ubiquinone), L-Carnitine, Vitamin B1 (Thiamin), Vitamin B2 (Riboflavin), Vitamin B3 (Niacin), Vitamin B6 (Pyridoxine), Vitamin B5 (Pantothenic acid), Vitamin B7 (Biotin), Vitamin B9 (Folate), Vitamin B12, Glycine, Cocoa Seed Extract, Ashwagandha (Withania somnifera), and Pyrroloquinoline quinone (PQQ).
A cheaper alternative supplement for energy is Energy by Performance Lab. It contains Acetyl L-Carnitine, Coenzyme Q10 (ubiquinone), Pyrroloquinoline quinone (PQQ), but it lacks the other ingredients that Qualia Life has.
If you want to learn more about improving your energy levels, I highly recommend Ari Whitten's free webinar called The Energy Blueprint.
Special thanks Examine and SelfDecode for helping with the research.
Affiliate Disclaimer: This post contains affiliate links. That means if you purchase a product through my link, I get a commission. Thanks for your support!