How To Get Your Life Together: 4 Easy Steps (+ FREE Template)
My life was a mess. I used to play video games all day. My social skills were poor. I had never learned how to make money. And I had no clue how relationships worked.
I knew I needed to get a life. But my mind was full of junk subconscious programming. Fear and anxiety crippled me to think any bigger or take any risks. I had to get my life together.
One day, I gave myself permission to dream. I set aside all critical thinking. There were a thousand reasons I could discard my dreams. But I shut my brain off and kept on dreaming.
I remember I had this new energy in me that I had never experienced before. My dreams were so inspiring that my soul couldn't help but pursue them. One day at a time.
Since then, I've never stopped growing. My life keeps getting better every year. And I'm always certain that my future is greater than my past.
Today, I'll share with you the blueprint that I only give to my coaching clients. You'll learn how to get your life together from scratch. This isn't a random method to get your life together. It's based on optimizing your neurotransmitters (especially dopamine) in the short-term, medium-term, and long-term.
Willpower and discipline come to you when you have a system that creates momentum for you. Happiness and success become by-products of living your epic life. When life feels like a game, you want to keep playing it better.
I've tested this method of getting your life together on my coaching clients. It works like a charm if you're willing to follow and implement it.
How To Get Your Life Together (Step-By-Step)
Step 1: Define Your Vision In Key Areas Of Life

Every emotion starts with a thought. Every invention starts with imagination. Every accomplishment starts with a dream.
The vision awakens the life force within you. Start by defining the key areas of life that make you happy and are important to you.
For each area of life, find a picture that represents that reality for you. So every time you visit your vision, the picture is more concrete in your mind. You can even collect multiple pictures for each area to create a vision board for your life.
Now it's time to define what each area means to you. Write the definition of each area in your own words.
Next, write the reason it's important to you. Why does it matter?
Then, write what practices you need to do to make your visions come true. How do you see yourself experiencing it?
Finally, write the values you need to live by to become the person who lives that vision. What are your core principles and what do you want to avoid while pursuing your vision?
Step 2: Create Your Daily Success Checklist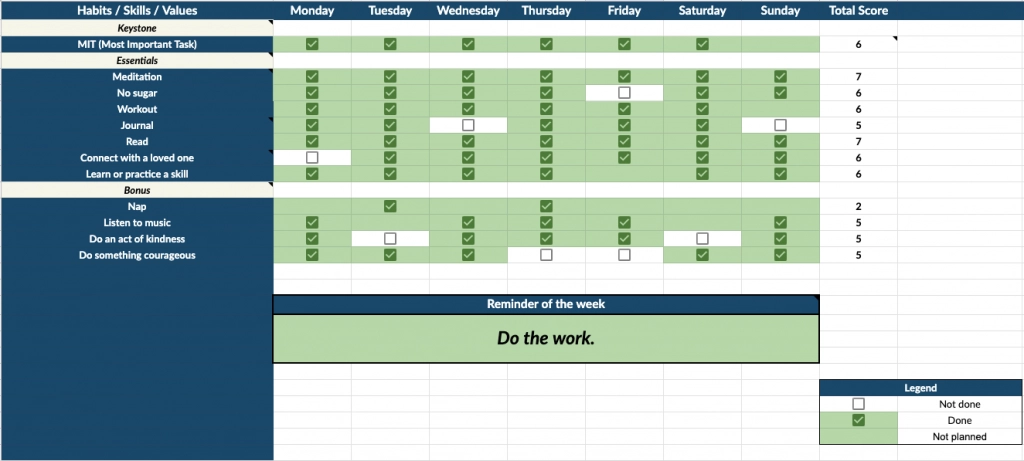 Your daily success checklist is where the magic happens. It fills the gap between who you are and who you want to become. It takes you from where you are to where you want to be. It all happens slowly and subtly only if you show up every day to use the checklist.
List one or two keystone habit(s) / skill(s) / value(s) that will set you up for success. It could be something that builds positive momentum so that every other habit becomes easier. Or it could be the most important task on your most important project.
Next, list the essential habits based on the practices you identified in your life vision. These are the habits you want to do daily or regularly. Make sure to list habits from each area of the vision.
Finally, list the bonus habits which are like cherries on top. There is no pressure for you to do them every day. You can skip them or do them, depending on the day.
Track habits every day of the week. Once the week is over, you can keep a score of the number of days you were successful with a habit.
Along with the daily checklist, write a "reminder of the week" that you can see every day. These could be quotes, thoughts, affirmations, prayers, or lessons. They help you influence your subconscious mind and turn knowledge into wisdom.
Step 3: Define Quests (Skills & Missions)

The quests turn your life into a game. They are the bridges between your vision and your daily checklist. They help you see where you're going and how you're progressing.
While some quests may be a few months long, others can last for up to three years. The average length of a quest is about a year, but don't be afraid to let go of a timeline when you need to.
Name the quests based on a mission, habit, skill, or a value you're developing. Break each quest into milestones or levels you can reach in about one year. Then, write the current status or score for each quest which you can update daily, weekly, or monthly.
Once you reach a milestone or level, you can mark it as achieved so you can focus on the next target. Quests are better than goals. They help you appreciate what you have accomplished and also keep you focused on your next target.
Step 4: Set Rewards & Rituals

Rituals are the rewards to your soul. When you radiate positive vibrations, everything you do becomes effortless and fun. That's the purpose of this section – to come back to a higher state of being.
Morning routine: List the things you can do in the morning that will help you start the day on the right foot.
Night routine: List the things you can do in the evening that will help you end the day on a positive note.
Midday rituals: List the things you can do to boost your energy, mood, calmness, and happiness. You don't have to do each ritual every day. These are the go-to pick-me-up you can do whenever you feel like.
Rewards: These are big rituals you do to reward yourself. You don't need a reason to reward yourself every time. Rewards feed your soul. When your soul is well-fed, you have more energy and positivity to do everything you want to do in life. List everything you can do to treat yourself. Then come back to the list whenever you want to reward yourself.
(Bonus) Step 5: Do A Life Audit With An Activity Tracker
Life audit is for the times when you need an intervention. It requires you to be honest with yourself so you can face what you've been avoiding.
Here's how you do it:
Write the tasks or behaviors you do regularly. You can also write the items in your environment or the names of people around you.
Rate each item on the list in the following criteria: a) energy b) attention c) emotion d) time on the scale of -3 to +3, where -3 is most draining, +3 is most giving and 0 is neutral.
Energy: Are they recharging you or draining you or are they neutral?
Emotion: What kind of emotion do they produce? Note: some things aren't pleasant, but they make you feel proud afterward. So in that case, you'll assign them as positive.
Attention: How much attention are they taking away from you?
Time: How much time are they taking away from you?
After the assessment, assign a goal to each item. What's the takeaway lesson? Do you want to do less of it? More of it? Maintain it? Or change it?
Finally, write how you'll implement the action with an implementation intention such as an "if, then" statement.
There you have it – your life designed in a nutshell. To plan your life is one step, to follow that plan is another, and to change your plans is yet another skill to master.
That's why it's important to keep the life design document as a live document. That means you can't set it and forget it. Just filling the sheet doesn't guarantee success, happiness, peace, or fulfillment. You need to edit it, apply it, and make necessary changes as life unfolds.
You need not be a genius to be great. All you need to do is trust the process and follow a path you can stick to. It may look too simple, but the simplicity of it is what makes it work like magic.
Now that you know how to get your life together, it's time to take the first step. Download the life design document template below to begin your journey now.
Ready To Get Your Life Together?